Our Fourth of July Celebration is currently scheduled to occur on 07/04/2021 with a NEW time from 6 p.m. to 10 p.m. Events are contingent on COVID-19 restrictions at time of event.  Gates open at 6 p.m. with fireworks starting around 9:30 p.m. Admission is $5 per car. Click here for Traffic and Parking Info
Free children's activity booklet–coloring, mazes, scavenger hunt and more!!
Food available for purchase. List of food vendors and abbreviated menus listed below for your convenience:
Convenience Catering-Hamburgers, Hot Dogs, Chicken Tenders, French Fries, Pork BBQ, Chicken BBQ
Chesapeake Foods– Sausage, Philly Cheesesteaks, Gyros, Fries
Johnson Family Funnel Cakes– Funnel Cakes, Deep Fried Oreos
Knights of Columbus– Pit Beef, Ham, Turkey
Old McDonald Had a Food Truck– Burgers, BLTS, Blueberry Brie Grilled Cheese
Kona Ice of Carroll County – Shaved Ice
Lemon Squeezers – Fresh Lemonade, Coffees, Smoothies
The Cow– Italian ice, Frozen Custard
Please no pets, fireworks, sparklers, alcohol, grills, glass containers, or tents. Park Avenue will be providing live entertainment.
Picnic blankets & chairs are permitted. Coolers with snacks and drinks also allowed (no glass, no alcohol)–please note that coolers may be checked prior to admittance.
Thank you to our sponsors: Atlantic Blue Water Services, Carroll Hospital Center, Carroll Land Services Inc. (CLSI), C.J. Miller Inc., Dean Robert Camlin & Associates Inc., English American Tailoring, Evapco Inc., Fox 45/WBFF Baltimore, Kohn Creative/Carroll Magazine, Lehigh  Hanson Cement, Maryland Public Television, MidAtlantic Farm Credit, R.D. Bowman & Sons Inc., Thomas, Bennett & Hunter Inc. (TBH), Waterworks Pool & Spas, Young Septic Service LLC (Young Septic & Excavating), S.H Tevis & Sons Inc., Bounds Accounting & Tax Services LLC, Pritts Funeral Home & Chapel, Penguin Random House, Farmers & Merchants Banks, and Hoffman, Comfort, Offutt, Scott & Halstad, LLP.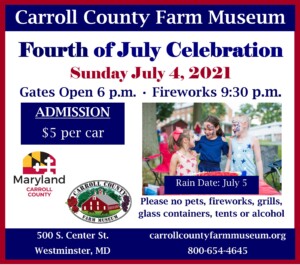 In order to facilitate a safe and orderly traffic flow from the event the following roadways will be closed to all traffic at 8:30 pm and will remain closed until all the traffic has cleared at the conclusion of the fireworks:
Center Street – From MD 140 to MD 32
Gist Road – From MD 32 to Kate Wagner Road
Kate Wagner Road – From MD 32 to MD 27
Hook Road – From MD 32 to the High School Entrance
Smith Avenue – From MD 32 to Gist Road
All traffic exiting the Farm Museum grounds will utilize Center Street from the Farm Museum to Maryland 140. All traffic exiting the Agricultural Center will utilize Gist Road to Kate Wagner Road to MD 27 or MD 32/MD 97.
ALL traffic from the Ag Center parking area will exit onto Gist Road using BOTH LANES. BOTH LANES of traffic must make a right-hand turn onto Gist Road and proceed to Kate Wagner Road.  NO LEFT HAND TURNS WILL BE PERMITTED ONTO GIST ROAD.
Access to the Carroll Hospital Emergency Room shall be made from the intersection of Gist Road and Maryland 32. Law Enforcement will be at this intersection to assist persons needing access to the emergency room.
Carroll County thanks the public for their patience and cooperation and reminds them to use caution while driving.
Please note if you park at the Farm Museum–At the end of the fireworks show, ALL traffic from this parking area will use BOTH LANES of Farm Museum Road to exit onto Center Street. BOTH LANES of traffic must make a left-hand turn onto Center Street and proceed to MD Route 140. NO RIGHT HAND TURNS WILL BE PERMITTED ONTO CENTER STREET.