Our Fourth of July Celebration is currently scheduled to occur on 07/04/2021 with a NEW time from 6 p.m. to 10 p.m. Events are contingent on COVID-19 restrictions at time of event.  Gates open at 6 p.m. with fireworks starting around 9:30 p.m. Admission is $5 per car. Please no pets, fireworks, sparklers, alcohol, grills, glass containers, or tents. Park Avenue will be providing live entertainment.
Thank you to our sponsors: Atlantic Blue Water Services, Carroll Hospital Center, Carroll Land Services Inc. (CLSI), C.J. Miller Inc., Dean Robert Camlin & Associates Inc., English American Tailoring, Evapco Inc., Fox 45/WBFF Baltimore, Kohn Creative/Carroll Magazine, Lehigh  Hanson Cement, Maryland Public Television, MidAtlantic Farm Credit, R.D. Bowman & Sons Inc., Thomas, Bennett & Hunter Inc. (TBH), Waterworks Pool & Spas, Young Septic Service LLC (Young Septic & Excavating), S.H Tevis & Sons Inc., Pritts Funeral Home & Chapel.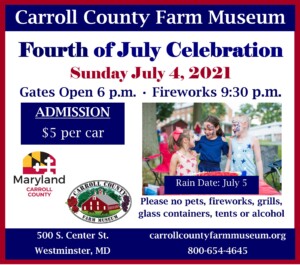 In order to facilitate a safe and orderly traffic flow from the event the following roadways will be closed to all traffic at 8:30 pm and will remain closed until all the traffic has cleared at the conclusion of the fireworks:
Center Street – From MD 140 to MD 32
Gist Road – From MD 32 to Kate Wagner Road
Kate Wagner Road – From MD 32 to MD 27
Hook Road – From MD 32 to the High School Entrance
Smith Avenue – From MD 32 to Gist Road
All traffic exiting the Farm Museum grounds will utilize Center Street from the Farm Museum to Maryland 140. All traffic exiting the Agricultural Center will utilize Gist Road to Kate Wagner Road to MD 27 or MD 32/MD 97.
Access to the Carroll Hospital Emergency Room shall be made from the intersection of Gist Road and Maryland 32. Law Enforcement will be at this intersection to assist persons needing access to the emergency room.
Carroll County thanks the public for their patience and cooperation and reminds them to use caution while driving.