Sep
19
Sun
The 2021 Maryland Wine Festival
Sep 19 @ 11:00 am – 5:00 pm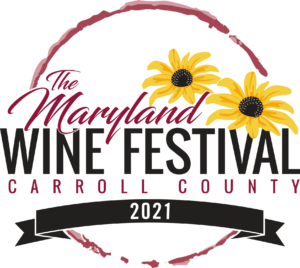 11 a.m. to 5 p.m.  — Saturday, September 18, 2021
11 a.m. to 5 p.m.   —  Sunday, September 19, 2021
TICKET INFO COMING SOON!
Entertainment Schedule
Saturday September 18
Foreplay  11am – 2pm
Half Serious  2:30pm- 5pm
Sunday September 19
Amish Outlaws     11am — 2:30pm
The 19th Street Band      3pm – 5pm
Food Vendors
Chesapeake Foods
Convenience Catering
Friendly Farm inc.
Genova's To Go Westminster
JD's House of Bacon
Knights of Columbus
Pop-Up Poutine and Patisserie
Salerno's
The Cow
Retail Vendors
A Bead Apart Jewelry
Andiland Studio
Bent Wrapped And Hammered
Custom Garden Rocks
JBC Woodcraft
Lisann Designs LLC
Mediterranean Basil Salt
OFF TRACK ART
Ray Morgan
Richard Kaish
Sexy Sandals
Sunflower Trading
The Bathing Raven Candle Co.
Toll House Studio
Wirestruck
Parking & Shuttle Instructions
Parking is available on site, with free handicapped-accessible shuttle bus service available from Carroll Community College (on Route 32) and the Carroll County Office Building located at 225 N. Center Street, Westminster, MD 21157.
This event is NOT pet friendly. Pets are NOT allowed inside the Farm Museum grounds. Pets cannot be left in vehicles during The Maryland Wine Festival. Valid state-issued photo identification required for entry for all tickets including Designated Driver—must be 21 or over to purchase/consume alcohol. Cooler with snacks & drinks allowed—no glass containers or outside alcohol. Coolers may be checked prior to admittance. Event is rain or shine! Be smart, Designate a Driver!
Interested in sponsoring this event? Contact Dana at dwachter@carrollcountymd.gov or call 800-654-4645.
Oct
10
Sun
Secret Garden Music, Arts & Wine Festival
Oct 10 @ 11:00 am – 6:00 pm
Secret Garden Wine Festival is an event held at the Museum by an EXTERNAL VENDOR–admittance to the Museum on this date will be subject to the ticketing prices of this event. To purchase tickets or to learn more about this event please visit them on Facebook. You can also visit the Secret Garden Music, Arts & Wine Festivals website by clicking here.
Oct
16
Sat
Celebrating 75000 Acres Preserved & Growing
Oct 16 @ 10:00 am – 4:00 pm
Carroll County's Agricultural Land Preservation effort is the most successful in the State of Maryland, preserving more farms and more acres through the purchase of land preservation easements than any other county in Maryland.  Carroll County's program also ranks among the nation's top five similar programs administered by local governments in the United States.  Operating since 1980, the Carroll program has preserved more than 740 farms encompassing over 75,500 acres.
In 2020, Carroll County reached the milestone of 75,000 acres preserved. This is 75% of its 100,000-acre goal.  To celebrate the occasion, the Fall Harvest Celebration at the Farm Museum will feature a ceremony, a bus tour of nearby preserved farms, other related special attractions. An educational campaign will accompany the event promoting the benefits of preservation to the community and the importance of public support for "growing" preserved land acreage to attain the remaining 25,000 acres. The celebration will be held on Saturday, October 16, 2021, from 10:00 AM to 4:00 PM at the Carroll County Farm Museum and is free to the public.  A special ceremony will be held at 12:30 PM.  More details will be provided at a future date and can be found on the Celebrating 75,000 Acres Preserved & Growing website.
The bus tour will be offered on a first come, first served basis.  Participants must register for this FREE tour.  Visit the Celebrating 75,000 Acres Bus Tour webpage for more information and to register.
For More Information about Celebrating 75,000 Acres Preserved & Growing:
Contact Brenda Dinne by emailing bdinne@carrollcountymd.gov or by calling 410-386-2140.
Website
https://CelebratingAgPres.CarrollCountyMD.gov
Bus Tour
https://www.carrollcountymd.gov/government/directory/land-resource-management/agricultural-land-preservation/celebrating-75-000-acres-preserved-growing/bus-tour/
Fall Harvest Celebration
Oct 16 @ 10:00 am – 4:00 pm
Stay tuned for more details 🙂