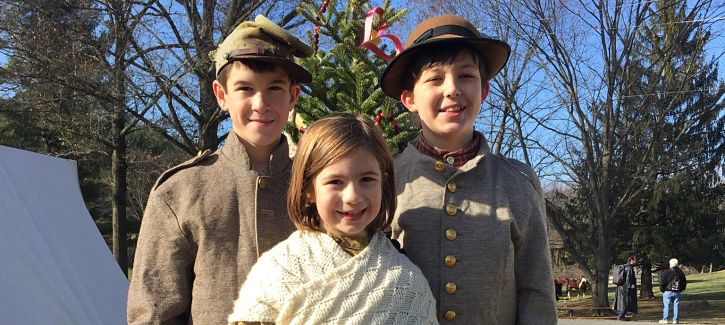 Civil War School of the Soldier
Registration for 2020 School of the Soldier open soon!
April 25, 2020 9 a.m. to 3 p.m.
Come learn what it was like to be a soldier in the Civil War. Open to boys and girls ages 10 to 15. Participants will be mustered in, drill and then reenact a skirmish for their families and other Museum guests. Pre-registration required by April 6. $25 fee includes a commemorative t-shirt. Please note: Real weapons are not used.
Living History Reenactment
The 1864 Eastern Campaign: The Wilderness
May 2, 2020
9 a.m. to 4 p.m. May 2
It is the spring of 1865 and the Civil War has reached a crucial point. General Ulysses S. Grant and the Union have caught General Robert E. Lee and the Confederates near Petersburg, Va. Both armies have dug extensive field fortifications around the city. The battle rages until Lee is trapped and forced to surrender at Appomattox Court House. After four long years, the war is over. Food is available for purchase at the event. $10 per family, $5 per adult, $4 per senior (60 & over)
Civil War Holiday Encampment
December 5, 2020 9 a.m. to 4 p.m.
Mark the start of the holiday season with the return of the Museum's popular Holiday Encampment. Reenactors camp on the grounds and illustrate how troops celebrated the holidays during the Civil War including a pay muster, mail call, infantry drill and skirmish. Children can make ornaments onsite and help decorate the camp Christmas tree. Be sure to visit our artisans and take a tour of the decorated Farmhouse. Light refreshments for sale in the Sugar Plum Shoppe.