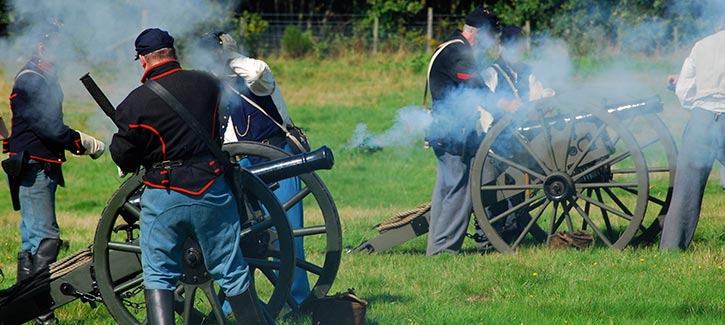 Civil War School of the Soldier
April 29, 2017 9 a.m. to 4 p.m.
Come learn what it was like to be a soldier in the Civil War. Open to boys and girls ages 10 to 13. Participants will be mustered in, drill and then reenact a skirmish for their families and other Museum guests. Pre-registration required by April 15. $25 fee includes lunch and a commemorative t-shirt. Please note: Real weapons are not used.
Living History Reenactment: The Seven Days Campaign
May 6 & 7, 2017
10 a.m. to 5 p.m. May 6
10 a.m. to 2 p.m. May 7
This year's annual spring encampment depicts the Seven Days Campaign illustrating six major battles that took place over seven days near Richmond, Virginia between the Army of Northern Virginia and the Union Army of the Potomac. The Battle of Fair Oaks, the featured battle on Saturday, set the Seven Days Campaign into motion. Activities include  a Civil War hospital, daily life in the camps and a reenactment of this historic campaign. Don't miss the Ladies' Social on Saturday.  Food is available for purchase at the event. $10 per family, $5 per adult, $4 per senior (60 and over
Civil War Holiday Encampment
December 2, 2017 9 a.m. to 5 p.m.
Mark the start of the holiday season with the return of the Museum's popular Holiday Encampment. Reenactors camp on the grounds and illustrate how troops celebrated the holidays during the Civil War including a pay muster, mail call, infantry drill and skirmish. Children can make ornaments onsite and help decorate the camp Christmas tree. Be sure to visit our artisans and take a tour of the decorated Farmhouse. Light refreshments for sale in the Sugar Plum Shoppe. $2 per person.