Exhibits
The Carroll County Farm Museum is home to one of the largest collections of historic farm artifacts and machinery in the Mid-Atlantic region. Founded in 1966 by a group of like-minded county residents and officials in the Carroll County Government, they transformed the county Almshouse and surrounding property into a site for visitors to learn about the region's agricultural heritage.
The Alms House was built in 1852 and opened a year later to assist people who had become ill, destitute or unable to feed their families. Each person was given one free night in the house and a hot meal with the stipulation that everyone must work the 340 acres in order to remain under the care of the steward and his wife. After 112 years, the Almshouse was closed in 1965. It reopened as the Museum in 1966.
Today, visitors can explore the seven rooms in the farmhouse which depict the life of a middle-class farm family in the 1880s. They can also see exhibits in our Living History Center featuring historic trades that were once important to Carroll County's economy. Our spinning, weaving, tinsmithing, chair caning, broom making and summer kitchen rooms offer a peek into the past. During special events, artisans bring these rooms to life as they practice these traditional crafts once more. The Living History Center is also home to our newest exhibit, The Children's Touch Room. There, children can experience hands-on learning activities in our late 19th century general store, post office and kitchen. Children also enjoy meeting our Farmyard Friends (here from mid-April through October) and our Red Devon Oxen — Jack and Jim.
Our barns and outbuildings highlight the importance of agriculture in Maryland's history. Some of our more significant exhibits include our new wormseed distillery, transportation exhibit, and our 1700s Hoff Memorial Log Barn — built without any nails.
We welcome you to visit our site to see our exhibits, animals, and artisans. The Farm Museum is committed to educating through the promotion and preservation of our rural heritage.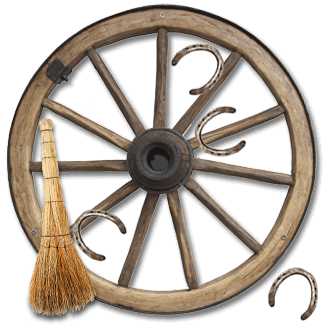 MAP
Select which file size toggle, and click on the image below to view/download the full map.
MAP
Select which file size toggle, and click on the image below to view/download the full map.